Please, keep your attention: as Joomla! team decided to no more disallow "media" folder access in robots.txt, if you are using LazyDbBackup on recent versions of Joomla!, you need to modify your robots.txt by adding :
Allow: /media/*/
Disallow: /media/
A new version of this plugin is available, using another folder for temporary dump files
How to use LazyDbBackup?
LazyDbBackup is based on LazyBackup by Stefan Granholm. (GNU/GPL 2 or over license). This plugin was modified to run with Joomla! 1.6 and internationalised. It comes now in three languages: English, French and German (many thanks to Nathalie Laurent from www.n-at-work.net for this german translation). And now Spanish language for version 3.0 by Jorge Ferreira from jorguito.com and Italian language by Giovanni Roli (see below).

Its purpose is to backup your Joomla! MySQL database and send the backup file by e-mail. One parameter allows you to deactivate the e-mail feature; the backup files are then kept in a special folder which you can download by FTP when needed.
LazyDbBackup comes in two versions, one for Joomla! 1.5
and one for Joomla! 2.5
New 30/06/2013 : new version 2.5 3.0 and 3.x compatible including Italian translation by Giovanni Roli. Many thanks to him !
July 9th,2011: corrected bug when sending backup to multiple email addresses . Thanks to Gerald Berger (Gary's CookBook)
March 25, 2016: some servers don't allow to use MySQL, only MySQLi or PDO, so there are two versions of LazyDbBackup using MySQLi or PDO (both for Joomla! 2.5 and 3.x). Prior test the PDO version.
Both allow now to not delete backup file after mailing it. Don't forget to delete older files from time to time or use LDBChecker (please see below).
If they are errors, please try MySQLi version.
July 8th, 2016: added dutch translation to 3.5.2. Thanks to Eric Swimmer!
April 12th 2017: versions 3.7.0 compatible with Joomla! 3.7, JRequest, "deprecated", replaced. Slovenian translation by Ervin Bizjak added. Thanks to him!
January 26th 2018: New versions 3.7.1 for Joomla! 3.8 to 3.9dev
PDO Version:
MySQLi Version:
Install it with the standard Joomla! extensions installer; you only need to set the appropriate parameters and activate the plugin.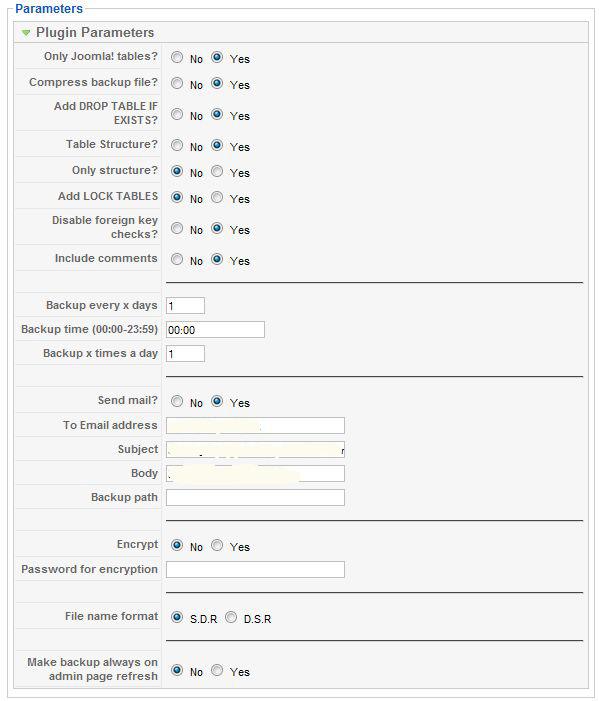 LBChecker (a module for LazyBackup, by inetis.ch) was modified to run with LazyDbBackup, and renamed LDBChecker. It allows you to manage the backup files from the Joomla! administration panel. (GNU/GPL 2 or over license)
LBChecker also comes in two versions :
and
A new version 3.7.1, fits PDO and MySQLi of LazyDbBackup :
If you experience any difficulty with LazyDbBackup, please let me know by using this contact form

Message from Stefan Granholm, on 09/15/2010 :
"Im very happy to hear its been updated for 1.6 :o)
And am very happy to see your work to, and I think its a very goog thing to joomla, if not the best extension ;o)
this is what sharing is about, helping each other and make it free for all .Very good day to you.
regards
stefan granholm"